Whenever I'm working on a quilt, there is always a point when I'm just
done
with it. Done looking at the fabric, done working out the little kinks that always pop up (I haven't done one yet where I haven't had to use the seam ripper), and done knowing that I still have to bind it....
But this quilt, this happy, cheerful little confection I have named "Playful Pinwheels" made me smile the whole time it was being created! I loved it from the beginning and I loved it even when I was sewing the binding on. I loved it so much, I even hand-sewed the binding on because this quilt deserved the highest accolade of a hand-sewn binding :)
Here
is the post where I went into detail on the specifics of the pattern and the fabric.
I picked up the backing fabric at a local quilt show and don't know who the designer of it is, but it sure is cute! I had originally planned for a red floral backing, but was surprised at how much I like the blue instead.
It is just the right size to snuggle under and I am so happy that I decided to make it bigger than the original pattern.
I have decided that I will be keeping this one for myself, instead of giving it away to someone else like I usually do :)
Linking up with
,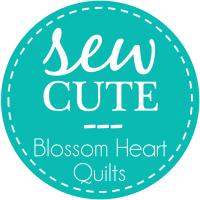 and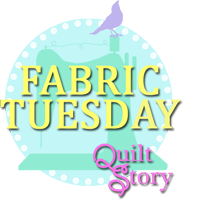 Until next time,
Michelle